At the start of 2023, Master Abrasives became the UK & Ireland distributor for MVK-Line, promoting their innovative range of micro-motors and battery powered hand tools. After ten months of successful customer trials, including in large aerospace manufacturers, Master has revealed four distinct areas of benefit for the range.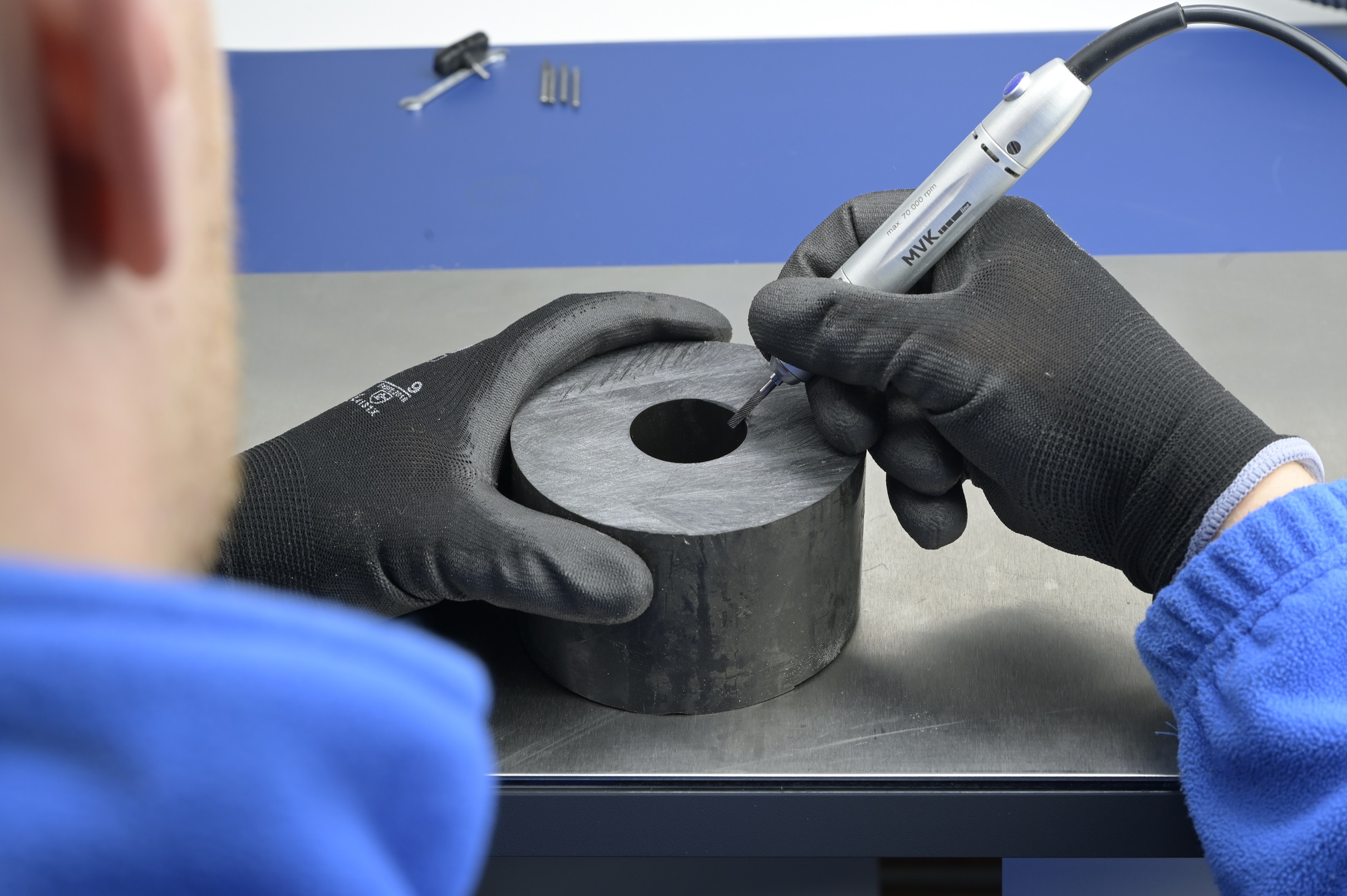 MVK-Line are a German manufacturer of high-quality electric tooling systems, whose equipment can offer substantial benefits to the manufacturing sectors. With a range of micro-motors and hand pieces suitable for use with shank-mounted abrasive consumables and the Airliner-ONE battery powered hand tools specially designed and approved for spot finishing and hole deburring in aerospace industry, the range is an ideal fit with the Master Abrasives portfolio.
The build quality of MVK-Line products is exceptionally high, which is evident as soon as you pick up a hand piece, whilst the power and torque generated by the controller unit and hand pieces is higher than other similar equipment in the marketplace. MVK-Line offers an array of hand pieces available with variable speeds, ranging from 2,000RPM up to 80,000RPM. The brand new M4 hand piece is pencil grinder sized and very lightweight, running up to 70,000RPM, while the larger more powerful M11 hand piece runs up to 30,000RPM and can fit either a 3mm or 6mm collet.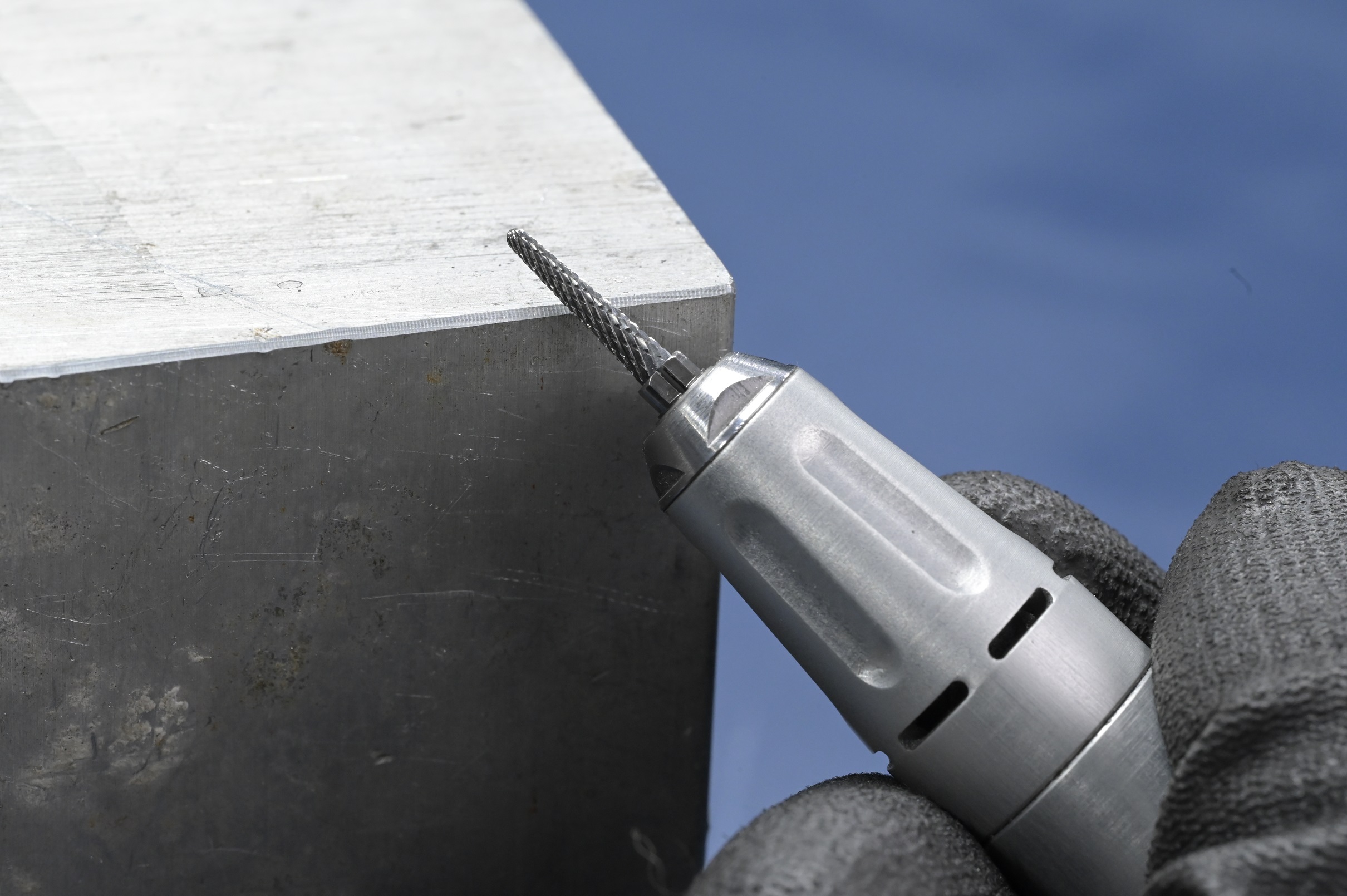 Master have been carrying out trial work across the UK in leading aerospace and casting companies. Andy Wright, National Business Development Manager for Master, stated: "The feedback on the MVK micro-motors has been very positive and initial scepticism by some in using a new method was short-lived, disappearing as soon as they used the system." During the trialling process, four distinct areas of benefit that this equipment offers became apparent.
1. Health & safety: very low hand arm vibration levels [HAVS] due to the high-quality bearings and highly balanced spindles; the hand pieces are significantly quieter than their pneumatic counterparts; also, operations are safer and cleaner with no lubricants leaking and spraying over components, workstations or operators. The clear digital display and easy control of the variable speed also allows operators to run their consumables at or below the maximum operating speed.
2. Energy savings: the high costs of generating compressed air makes it one of the most expensive forms of power, with leaks between the compressor and power tools adding even more to the costs incurred. In one comparison test, a 95% saving against compressed air was calculated when using the MVK micro-motors.
3. Efficiency / performance: the increased and consistent torque, with no drop off in power or speed as the abrasive consumable meets the work piece, enables the maximum performance of the consumable. This, in conjunction with the variable speed feature, allows the consumable to run at its optimum speed, increasing the life of the consumables and improving its performance further still. One leading aerospace manufacturer identified a 50% increase in consumables life compared to those used in the equivalent air tool. The variable speed also means one hand piece can replace any number of air tools running at the different required speeds.
4. Service / repair costs: Compressed air lines, if not properly maintained and clean, can damage the internal mechanisms of pneumatic tools - leading to regular and expensive service/repair costs. With no airlines required and as MVK hand pieces have a significantly lower number of wear parts compared to pneumatic tools, the periods between services can be considerably longer and bring the service costs down, as well as ensuring that tools give optimum productivity. Master Abrasives fully support the range by offering servicing and repair of the MVK range at their repair facility in Daventry, Northamptonshire.
If you would like to explore the potential benefits of working with Master Abrasives and the MVK micro-motors and equipment, contact them and take the first step to improving your productivity.